Savers have barely seen any benefit since the Bank of England increased the base rate by 0.25 percentage points two weeks ago, MoneySavingExpert.com data reveals.
The official borrowing rate – which underpins savings and mortgage rates – rose to 0.75% on 2 August, but savers waiting for better returns on their cash have been left disappointed, with only fixed savings best buys seeing a miniscule improvement since the rise.
While many banks increased savings rates in anticipation of the base rate rise, hopes of an influx of great new rates haven't materialised, and this is compounded with many existing savers still languishing on paltry sub 1% rates as banks take advantage of their loyalty.
Today's top easy-access account pays 1.4% AER variable interest, the same rate as before the base rate rise, while the top one-year fixed account has risen just 0.01 percentage points to 2.06%.
While current savings rates are generally underwhelming, they're still pretty decent in comparison to the last few years. And as most accounts pay far less than the best buys for existing customers, if you're seeing poor returns on your cash, it's time to move account.
For the best savings rates currently on offer, including easy-access and fixed deals, see our Top Savings guide.

Get Our Free Money Tips Email!
How have savings moved in the last two weeks?
Over the past two weeks, MoneySavingExpert has been compiling the best buy savings rates for easy-access and fixed deals. While fixed rates have risen slightly during this period, many of the more substantial rises – particularly one-year fixed rates – haven't lasted more than a few days. And in terms of easy-access accounts, no provider has topped Coventry Building Society's 1.4% offering.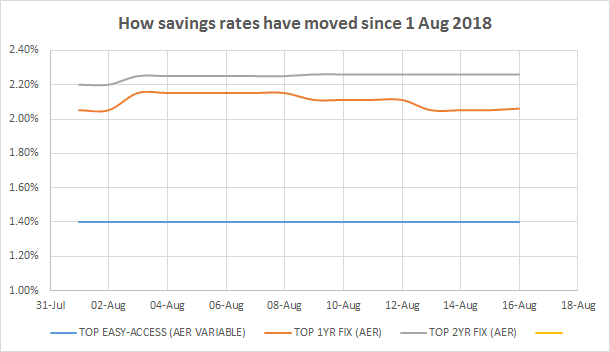 'It's time to ditch and switch to a better account'
Gary Caffell, money editor at MoneySavingExpert said: "While we did see a slight increase in rates before the base rate rise, many savers will be disappointed the best buy rates have been flat since. That said, the top picks are still pretty good compared with the dismal rates many savers are getting. So check your account and if yours is paying a paltry return, it's time to ditch and switch your savings."
What are today's best buys?
According to our recent poll, 43% of you said you'd moved your account in the last year, meaning the majority are likely to be missing out on the best deals.
So if you do want to ditch and switch, the top easy-access deal right now is from Coventry BS. It pays 1.4% AER variable (including a fixed 0.25% bonus for 12 months). You can only make a maximum of three withdrawals a year to earn the headline rate of interest, so if you'd prefer more flexibility, Birmingham Midshires pays a lower 1.35% AER variable for a year. Both can be opened with £1. For info on these accounts and more, see our Top Savings Accounts guide.
If you're happy to lock away cash, Charter Savings Bank pays 2.06% to fix for a year. You can open it with £1,000. The next best is Wyelands Bank, which pays 2.05% for a year, though you need to deposit at least £5,000.
Secure Trust Bank pays 2.26% for a two-year fix, while its three-year offering pays 2.37%. Both can be opened with a minimum of £1,000. You can fix for longer and earn up to 2.69%, though you'll miss out if rates rise in the future – so it's a risk. For more details, see Fixed Savings Accounts.