Tesco has apologised to customers after taking up to three months to process some payments made in 300 of its Express stores – leaving some shoppers overdrawn.
The supermarket giant has admitted that its card payments system did not fully process some transactions made on credit and debit cards since the end of November, resulting in a delay in the money coming out of customers' accounts and some complaining they'd been charged for multiple shops all at once.
Tesco says it has proactively contacted "as many affected customers as possible" about the issue, but if you have shopped in a Tesco Express since November, it's worth checking your statements. If you've gone overdrawn or been hit with other bank charges as a result of the problem, Tesco says it WILL reimburse you.
Have you been charged late by Tesco? Let us know at news@moneysavingexpert.com.
'I was horrified – I run a tight budget'
In the past couple of days, we've been contacted by a number of furious Tesco customers who've been belatedly charged for payments they made in stores in November, December and January.
MoneySaver Julie told us: "I was both shocked and horrified to find out that Tesco had taken three months to put through contactless transactions.
"These said transactions range from November 2017 through to January 2018. Nothing was indicated on my online statements as to pending payments and they have now presented me with these bills after nearly three months. I run a tight budget and they have now told me that there are nine transactions that were not processed correctly and that they would take them all out now."
Adam, who received a letter about the issue from Tesco, told us: "Taking nearly two months to send a letter out is a bit too long. I called them to say that I can't pay it all at once as this will take me overdrawn, only to be told that the money will come out of my bank in the next few days."
Below is the letter one customer received from Tesco: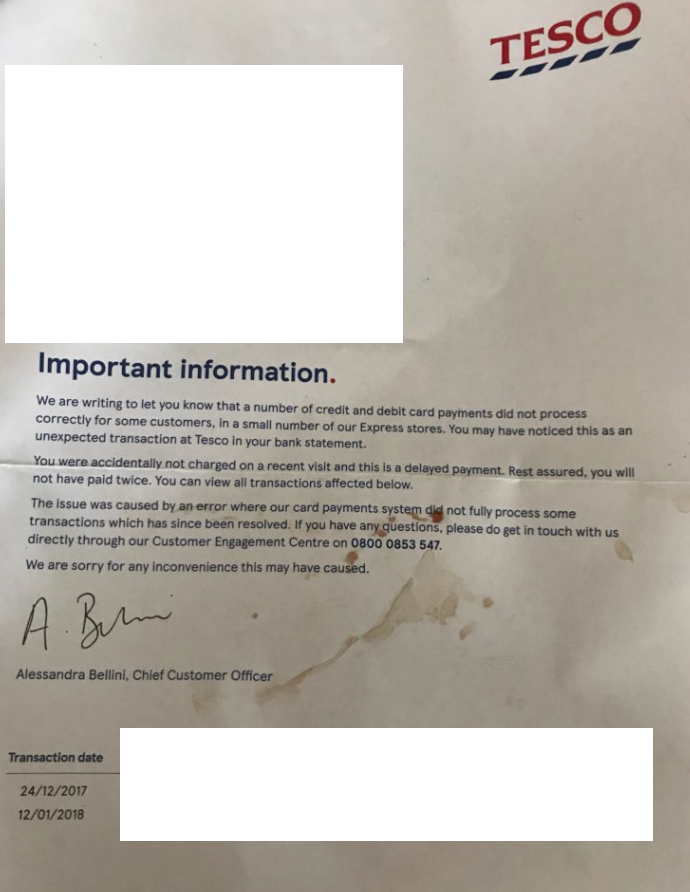 Several Tesco customers have also complained about the situation on Twitter:
I'm trying to gather as many people as possible who have been affected by @Tesco taking late payments this week for transactions that happened in December/January. Please do you your thing Twitter and RT this far and wide

— Sharon (@DoctorWarmflash) February 13, 2018
Letter from @Tesco telling me they didn't take a payment on 9/12/17 and taking it now! 1. How am I supposed to remember if I spent that and 2. What if I don't have money in my account to take it now? As usual, Tesco screw up again! Worse company ever!!!

— Claire 🐻 (@chillsternator) 12 February 2018
What to do if you've been charged late
Tesco says that it WILL reimburse any customers who have gone into their overdraft or been hit with other charges from their bank as a result of this problem, subject to evidence.
It says anyone affected should contact its customer engagement centre on 0800 0853 547.
Card schemes such as Mastercard recommend that payments on card are taken within seven days, but payments can often take longer, and the retailer is entitled to money if the goods are supplied.

Get Our Free Money Tips Email!
How many customers are affected?
Tesco hasn't yet set how many customers or payments are affected, though it has said the problem only relates to a small proportion of its smaller Express stores. At the end of 2017 Tesco was operating 1,740 Express stores across the country.
We've asked for a precise figure on how many shoppers are thought to be affected and how many Tesco has proactively contacted and will update this story when we know more.
What does Tesco say?
A Tesco spokesperson said: "As soon as we identified this issue, we contacted as many affected customers as possible and have now processed all incomplete transactions.
"The issue has now been resolved and we are sorry for any inconvenience this may have caused."
Tesco says most delayed payments were for less than £10, and that payments on contactless and non-contactless credit and debit cards were affected.



It says the affected transactions have taken place in roughly 300 stores.