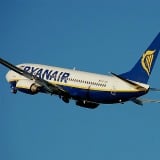 Hundreds of Ryanair flights have been cancelled today after strikes were called by staff in Ireland, Germany, Sweden, Belgium and the Netherlands – if you're affected, here's what you need to know.

The airline said 396 flights have been cancelled as a result of the action, meaning tens of thousands of holiday-makers could face disruption.
But they key rule is if your flight is cancelled you're entitled to a new flight (possibly with an alternative airline) or refund, and possibly £100s in compensation.  See below for more on your rights.
For your full rights when flights are delayed or cancelled see our Flight Delay Compensation guide.

Get Our Free Money Tips Email!
What are my rights when my flight is cancelled?
Under EU flight delay law you have rights if your flight is cancelled or delayed. For these rules to apply the flight must have left from an EU airport, or you must have arrived at an EU airport on an EU airline. Under this law, EU airports also include those in Iceland, Liechtenstein, Norway and Switzerland.
If your flight is cancelled you're entitled to alternative flight or a refund – regardless of what has caused the issues.
It's also worth noting you may be entitled to ask for a flight on an alternative airline, if the one you are offered by your airline is inconvenient. It's a bit of grey area as to when the airline should agree that its offer is inconvenient, but if you have found a better flight with an alternative airline you can ask to be booked onto that instead.
It's important that you ask your airline to rebook you, rather than just doing it yourself, to ensure you're not left out of pocket.
In September last year, Ryanair agreed to put passengers on alternative airlines after the regulator the Civil Aviation Authority (CAA) stepped in. See our MSE Ryanair agrees to put passengers on other airlines' flights News story for more information.
What if I'm stuck at the airport?
If you're stuck at the airport now waiting for your Ryanair flight, here are the key need-to-knows:
Ryanair should tell you what's going on. Ask at a check-in desk but also look at its website and Twitter for updates. Check the email you used when booking too, in case you've been sent an update, and its app may have info. You can also enter your flight number on FlightRadar24, which tracks planes in real time, to see if it can give you an idea of what's going on.

You're entitled to food and drink. Regardless of what caused the hold-up, Ryanair must look after you if you're delayed or waiting for an alternative flight if your original was cancelled. It should provide food and drink (or vouchers to buy them) if you're delayed more than two hours on a short-haul flight or three hours on medium haul.

If it's unable to, you can buy your own and claim back, but make sure you keep receipts – remember only reasonable expenses are covered, so keep them to a minimum.

You're entitled to accommodation if needed. If delayed overnight you're entitled to a hotel, and Ryanair must also provide transport to and from it. Ideally it would book the hotel so always check first, but if it's unable to help, try to find a reasonably priced one and keep all receipts – again it's unlikely to cover a luxury hotel.

You're entitled to a 'means of communication'. In practice this just means the Ryanair should in theory reimburse you for the cost of any relevant calls you make.
Keep hold of any evidence. As well as keeping receipts, note the reason you were given for the delay or cancellation and screenshot any information you may have seen on Twitter etc, as this could prove useful if you later claim compensation. Keep your costs to a minimum though.
For full information, see the stuck at the airport section of our Flight Delays guide.
I think I'm owed compensation – what should I do?
The Civil Aviation Authorisation says that airlines should payout if their own staff strike, and this results in delays or cancellations that meet the criteria for compensation. This is based on a ruling by the European Court of Justice earlier this year, see our MSE You CAN claim for flight delays and cancellations caused by 'wildcat' strikes after EU court ruling News story for more information.
There are many rules around whether a flight delay or cancellation meets the criteria for compensation and we have all the details in our Flight Delays guide. In brief you may be able to claim if:
It's the airline's fault – eg, airport staff strikes aren't covered but strikes by airline staff are. What counts?

If your flight is cancelled less than 14 days before departure

If your flight is cancelled and the rescheduled flight you are put on arrives over a certain amount of time late, you may be able to claim. Even if you go for a refund of your original ticket, rather than opt to be re-routed – meaning you don't travel – you can claim compensation based on the timings of the alternative flight offered, with full info here. (see how to check past delay lengths)




How much you can claim is fixed – this is based on delay, or in the case of cancellations the delay you would experience if you had flown, and journey length. What am I owed?
If you have been affected by the Ryanair flights and you think you are owed compensation you should try to claim from Ryanair in the first instance. You can use our free flight delays tool to submit and track your claim.
If it refuses to pay you compensation you will need to escalate your claim to the AviationADR scheme – the alternative dispute resolution scheme Ryanair has signed up to help resolve customers' complaints. This is free to do.
Ryanair has been told it MUST pay compensation
Ryanair has signed up to Aviation ADR, which is an independent alternative dispute resolution service which deals with disputes between airlines and passengers. Any ruling it issues are binding on the airline.
Aviation ADR told us that Ryanair should be paying out if passengers are delayed by more than three hours due to the strikes, as it has received "no evidence" to suggest that the cause of delay amounted to extraordinary circumstances.
In a statement, it said: "AviationADR's policy in relation to 'crew strikes' is in accordance with the judgment in Krusemann. So far, all complaints that we have processed in relation to strike action at Ryanair have been determined in favour of the passenger, predominantly on the basis that we have seen no evidence to substantiate any submissions that the cause of such delay amounted to 'extraordinary circumstances'.
"We understand that Ryanair is submitting further evidence in relation to the current pilot and crew strikes. Once received, we will review the evidence to decide whether it has any impact on the outcome of any passenger complaints that we have not yet determined."
What does Ryanair say?
A Ryanair spokesperson said: "Ryanair took every step to minimise the disruption and we notified our customers as early as possible advising them of their free move, refund or reroute options.
"The majority of customers have already been accommodated on another Ryanair flight.
"We want to again apologise to customers affected by this unnecessary disruption and we ask the striking unions to continue negotiations instead of calling any more unjustified strikes."