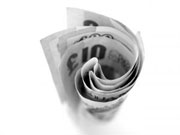 Wonga has not ruled out going into administration after a surge in compensation claims.
According to Sky News, the payday lender has earmarked financial services firm Grant Thornton to act as administrator in case the lender's board decides it cannot avoid insolvency.
When we asked Wonga about Sky News' claim that it had lined up administrators, Wonga told us it is assessing "all options" regarding its future.
See our Payday loans guide for the full need-to-knows and warnings.

Get Our Free Money Tips Email!
I have a Wonga loan – should I continue repaying it?
In a word – yes.
If you have an outstanding Wonga loan you should keep repaying it unless you are told otherwise. If any financial firm you owe money to goes into administration you will still have to continue paying the cash, you'll just pay an administrator or new firm instead, if it's bought out.
If you think you have been mis-sold a payday loan see Citizens Advice for help, and our Financial Ombudsman – Your financial rights guide if you need to escalate your complaint.
I've got a compensation claim against Wonga – will I still get my money?
At the moment, if you have got a legitimate mis-selling claim then you should get your money.
But IF Wonga were to go into administration it's not clear what will happen, but to be safe expect the worse as you would become a creditor but you won't be at the top of the list to be repaid.
The Financial Ombudsman Service (FOS) has said it is still accepting new complaints from Wonga customers, who need to escalate their complaint against the firm.
A spokesperson for the FOS told us: "We're still looking at Wonga complaints and we will continue to do so until it becomes obvious we're doing customers a disservice by doing so."
What does Wonga say?
A spokesperson said: "Wonga recently raised £10 million from existing shareholders to address the significant increase in legacy loan complaints seen across the UK short term credit industry.
"Since then, the number of complaints related to UK loans taken out before the current management team joined in 2014 has accelerated further, driven by claims management company activity.
"Against this claims backdrop, the Wonga Board continues to assess all options regarding the future of the group and all of its entities."
Grant Thornton told MoneySavingExpert.com that it had no comment to make at the moment.
Additional reporting by the Press Association.