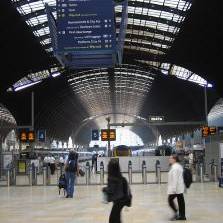 Commuters on Great Northern, Thameslink and Northern trains could soon be eligible for an extra lump sum of compensation potentially worth £100s – but if you're affected make sure you claim for individual delays NOW.
Chris Grayling, Secretary of State for Transport, yesterday announced there would be additional compensation for customers who have been affected by the recent mass disruption as they are facing "totally unsatisfactory levels of service."
On 20 May Govia Thameslink, which runs the Thameslink, Southern, Great Northern and Gatwick Express services, completely overhauled its timetable, while Transpennine Express and Northern also made changed some times in a bid to improve efficiency – but amid many cancellations and delays amended timetables have been introduced on Great Northern, Thameslink and Northern.
See our Train Delays guide for full help on how to claim for disruption.

Get Our Free Money Tips Email!
Passengers could be owed £100s
In his statement to Parliament, Grayling said an additional compensation scheme must be put in place on affected routes run by Govia Thameslink and Northern.
Although the details are yet to be announced the Department for Transport (DfT) has confirmed to MSE this morning that customers will be able claim this in addition to the usual Delay Repay compensation they are entitled to – so make sure you claim for each individual delay too, see below for how.
Train firms are so far yet to announce the details of the scheme, but here's what we know so far:
It's likely to be for season ticket holders – Grayling said the scheme would be for "regular" travellers, and so is likely to include those with weekly, monthly and annual tickets.

You may be eligible for a month's worth of travel costs – Grayling said the scheme, particularly for Northern passengers, should offer similar compensation to a Southern rail lump sum scheme which ran last year. Under this scheme those who could prove they held three months' of tickets in a nine-month period were eligible to claim a month's worth of travel. See our MSE Southern Rail compensation News story for more.

The scheme will be run by the train firms – Grayling said the scheme would be funded and set up by the rail industry, but Govia Thameslink and Northern have yet to give details. We'll update this story with full details of how to claim when we know.
It's not clear if passengers travelling with other train firms, who have suffered due to knock-on effects from Govia Thameslink and Northern problems, will also be eligible for this compensation. We've asked for more information on this and will update this story as soon as we know.

Make sure you also claim for each individual delay with 28 days
The DfT has confirmed that making a Delay Repay claim for each individual delay you suffer will not exclude you from being eligible for the lump compensation scheme – so make sure you claim.
If you're on Thameslink, Southern, Great Northern and Gatwick Express you can claim if you arrive at your destination at least 15 minutes after you were supposed to – regardless of the reason – while with Northern and Transpennine Express it's 30 minutes.
Crucially, when checking how long you've been delayed you can claim against the original timetable which was introduced on 20 May – even if your train firm is running an amended timetable. Here are the 20 May timetables for each of the firms:
On a number of Govia Thameslink routes going through the capital, including Peterborough to Horsham, Luton to Rainham, Luton to Orpington and Bedford to Brighton, the new timetable hasn't yet been implemented on weekdays, and it's only being implemented gradually over the coming weeks.
If you're delayed on these routes you'll need to check when you should have arrived against its interim timetables in order to see if you can claim.
See our Train Delays guide for full help on how to claim for disruption.
I heard a Southern customer claimed £2,400 – can I get more than a month's compensation?
Last year we heard from a Southern commuter who claimed a £2,400 refund from his card provider, American Express (Amex), for dire service.
Section 75 of the Consumer Credit Act means your credit card provider is jointly liable with the retailer/seller if something goes wrong. For debit card payments there is a similar but less powerful scheme, called chargeback (which also has a much shorter time frame in which you can claim).
In this case it's not clear which scheme Amex paid out under, and so far this is the only case of this type against Southern that we've heard of. It's also worth noting that this case doesn't set a precedent, and so there are no guarantees your card provider will cough up. But it may be worth a shot – see Can you claim from your credit card firm? for full info.
It's also worth bearing in mind that technically the rules say you can't submit a Section 75 claim if you've already claimed compensation by another route, so claiming the expected compensation lump sum could stop you making a Section 75 claim at a later date.
What else did Grayling announce?
In his speech, Grayling said: "Let me be absolutely clear: passengers on these franchises are facing totally unsatisfactory levels of service. And it is my and my department's number one priority to make sure the industry restores reliability for passengers to an acceptable level."
In addition to the compensation scheme, he said there will be an independent inquiry carried out by the Office of Rail and Road, and his department will check if the train firms have breached their contracts.
Paul Plummer, chief executive of the Rail Delivery Group which represents train firms, said: "We fully support the Government's enquiry which must take an open and comprehensive look at every aspect of the decision-making process and the organisations involved in the timetable change.
"The industry will play its part to ensure lessons are learned but right now Network Rail, Northern and Govia Thameslink are working together, with support from the rest of the industry, to get services back to an acceptable level."