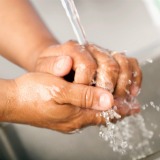 Water regulator Ofwat has announced a review of the supply issues experienced by customers during the recent severe weather conditions.
Thousands of homes in England and Wales were left without water for several days last week after the thaw following the previous week's snow caused widespread leaks and bursts in water mains and pipes.
The review will examine how water firms handled the situation, including if the compensation being offered to customers is adequate.
Ofwat will look into the quality of the support provided to customers, the way they were communicated with, and how prepared companies were in the run-up.
The watchdog, which oversees water companies in England and Wales, will also seek to establish what caused the water supply issue.
Most firms are offering customers compensation. For more info see our Homes left without water MSE News story.

Get Our Free Money Tips Email!
What does Ofwat say?
Ofwat chief executive Rachel Fletcher said: "To be left without a vital public service like water – in some cases for several days – is deeply distressing, particularly for those in vulnerable circumstances.
"Through this review, we are aiming to get to the bottom of why this happened and to identify what lessons can be learned so customers experience minimum disruption in these kinds of circumstances in future.
"We'll find out where companies did well by their customers and where they've fallen short, including the compensation being offered to those who were directly affected. Water companies should ensure that compensation adequately reflects the scale of inconvenience and distress caused to their customers. Compensation should be fair, fast and free from hassle for customers."