Martin Lewis is warning PPI claimants not to follow advice on the financial regulator's new Arnold Schwarzenegger adverts – as they could end up losing a third of their payout.
The Financial Conduct Authority (FCA) tells people to search "FCA PPI" on its new radio and poster adverts, which encourage people to check if they were mis-sold Payment Protection Insurance (PPI), but MoneySavingExpert.com has found instances where firms which charge people up to 36% to claim PPI will be the top result for this term – instead of the official FCA site.
Directing claimants to use the "FCA PPI" search term rather than giving the official www.fca.org.uk/ppi address is risky as the FCA cannot guarantee to be the top result every time someone searches that term.
While the FCA does generally come top in organic search – which is ranked by the relevance to the search terms – paid adverts sit above this and so generally are the first things people see.
Remember, you do NOT need to pay a company to reclaim PPI for you, see our Reclaim PPI for Free guide for more information.

Get Our Free Money Tips Email!
What's the problem?
Last week the FCA launched its latest wave of Arnold Schwarzenegger adverts, which tell people to check if they were mis-sold PPI and claim before the 29 August 2019 deadline.
The advertising campaign includes a TV advert, two different radio adverts and two different posters. The TV advert is the only one to feature the full FCA website address, the radio adverts and posters tell people to search "FCA PPI" and don't give the official FCA web address. Here are the two posters:
When we tested the search term "FCA PPI" on different search engines, including Google, we found multiple instances where paid-for claims firms came above the official FCA website in the search results, such as the one below. The FCA is the fourth result in the list of adverts and the firms ranking above it take up to a 36% cut on a no-win-no-fee basis.
It's worth noting that the FCA website generally appears at least twice in the search rankings, once in the paid-for adverts section and in the organic section. Here's an example of where claims firms appeared above the official FCA site: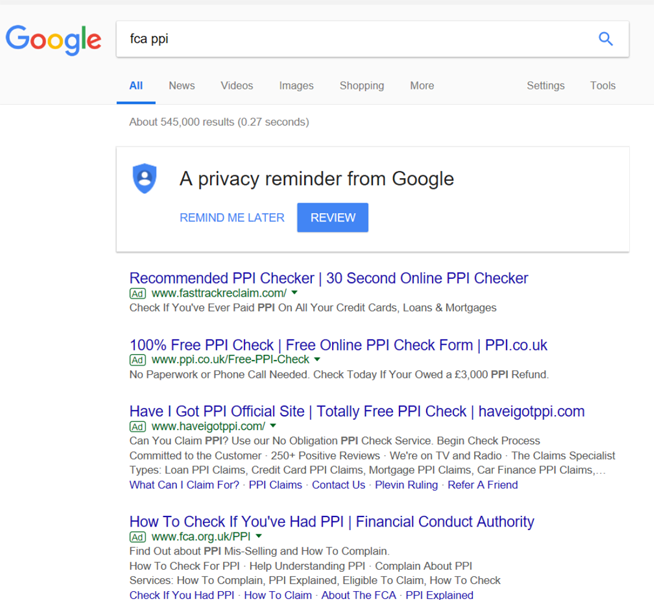 Martin: 'The FCA needs to urgently change the call to action in these ads'
Martin Lewis, founder of MoneySavingExpert.com said: "The FCA may be trying hard, but it has got this wrong. It needs to urgently change the call to action in these adverts. These ads are there to target hard-to-reach people who've not already reclaimed PPI in the last decade. A good chunk of those people will be vulnerable, or not particularly web savvy. Over the years the Google ad blurred the visual lines between what's an ad and what's a search result, so both look similar – for those unfamiliar, mistakes are easy.
"The FCA is using what is effectively public funds to pay Google to try and get high up in the search rankings. Yet many claims firms have deep pockets as they've made easy money by taking 30% of people's PPI payouts – so they're willing to shell out big bucks to lead the google ad rankings for the term PPI. It's therefore likely many people will wrongly click to claims management firms' sites thinking the regulator wants them to. 
"At worst they'll find themselves paying to reclaim when they thought it was free, but I suspect many more simply won't 'be back' after they wrongly see there's a cost, stopping them taking any action."
Why is this happening?
As the FCA has chosen to use a search term rather than its full website address it has no control over what results people will see when they search "FCA PPI".
Generally the highest ranking results on search engines are paid-for adverts, meaning companies have to actively bid on words or terms they think people will search for, in order to try and bag the top spot in the search engine results.
The companies bid on these words or terms, and then pay the search engine if someone clicks through to their site. The amount they pay will depend on factors such as how much they bid and how relevant their site is to the search term.
To complicate matters even more, these results can frequently change, and can also differ depending on which search engine and browser is used. They may also change if the search engine has demographic information about the person searching, such as an age range etc.
It's worth noting these paid-for firms may not necessarily be bidding on the term "FCA PPI" but could simply be bidding on the PPI search term.
What is PPI and how do I reclaim?
PPI was an insurance policy sold when you got a loan, credit or store card, catalogue account, overdraft or car finance. It's designed to cover your loan or credit card repayments for a year in the event of an accident, sickness or, in some cases, unemployment.
In itself, it isn't a bad product. But it's been widely mis-sold and now, because of a ruling called Plevin, even just having had it means you're likely due some cash back.
The original mis-selling has left many paying thousands for potentially worthless cover – and you could even have it without knowing (see the Mis-selling Checklist for full info.)
Remember, you do NOT need to pay a company to reclaim PPI for you, see our Reclaim PPI for Free guide for more information.
You need to act NOW to reclaim mis-sold PPI
Because of the 2019 deadline, it's key to check if you've ever had a loan, credit or store card, mortgage, overdraft or catalogue debt to see if you were mis-sold PPI.
Claims over how PPI was sold must be received by the firm you're complaining to on or before 29 August 2019, or they won't be considered. Complaints received ahead of the deadline will then be allowed to run their course.
There are a few people who will still be able to claim after 29 August 2019, however:
If you buy a new PPI policy after 29 August 2017, the deadline WON'T apply to any mis-selling claim.

If you have an existing PPI policy AND you make a claim on that policy for a payout (eg, if you become unemployed and claim as a result), if you then find the firm rejects your claim and you want to dispute it and say you were mis-sold, the deadline WON'T apply.

If you have an existing PPI policy and you want to make a mis-selling claim WITHOUT having claimed on the policy, the deadline WILL apply.
If you think you were mis-sold you can use the Resolver tool on our website to reclaim – and you'll keep all the money.
For 5.5 million the deadline will be earlier
For most, 29 August 2019 is the deadline for complaining about PPI, but for some they will have to claim much sooner, or may have even missed out.
That's because between 2013 and 2015, firms proactively wrote to 5.5 million people who were at high risk of being mis-sold PPI but had not yet claimed.
Some of these letters, known as redress letters, offered money upfront. Many of them, also known as contact letters, warned customers that they had three years from the date they received the letter to make their claim – that deadline still applies.
What does the FCA say?
An FCA spokesperson said: "As is always the case with PPC, we cannot guarantee that the FCA ad will appear in first place every time.  The auction for all PPI related keywords is very competitive and can create different search results depending on the competition at the time of the search.
"We carefully monitor this and adapt our approach to maximise the value of our advertising. In the last two weeks, our advert has generally appeared first or in the top two results with our average position as 1.3.
"We are confident that our campaign call to action is clear in directing people to the FCA PPI pages and we have had a significant uplift in website traffic since campaign launch."