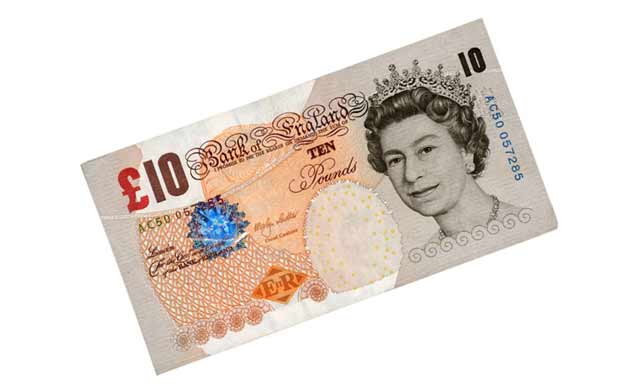 If you've still got any old £10 notes, beware – you only have until Thursday 1 March to spend them before they're officially withdrawn by the Bank of England. Here's what's happening and what you can do if you miss the deadline.
Following the launch of the new polymer tenner in September, older £10 notes featuring Charles Darwin have been gradually phased out and will cease to be legal tender in less than two weeks.
It's believed that more than a quarter of the old £10 notes, worth a staggering £2.2billion, remain in circulation – so if you've any old tenners, the last day to use them is 1 March 2018. After this date, retailers will no longer accept them as payment for goods or services.
North of the border, older Scottish £5 and £10 notes will also cease to be legal tender on 1 March, but there are no changes planned for Northern Irish banknotes.

Get Our Free Money Tips Email!
What to do if you still have an old £10 note AFTER 1 March
It's not the end of the world if you happen to find an old-style £10 note tucked down the back of the sofa in the years ahead – while it won't be legal tender anymore, the Bank of England guarantees that all banknotes it issues hold their value for "all time". That means you can still exchange them at face value with the Bank of England in London, in person or by post (at your own risk).
In practice though, you probably won't need to do that. Barclays, Lloyds/Halifax/Bank of Scotland, Nationwide, NatWest/RBS and Santander all confirmed to us that they will accept deposits of the old £10 note from their own customers after 1 March – but the Bank of England stresses this is wholly "at the discretion of the individual institution". We've also asked HSBC if it'll accept old notes and will update this story when we hear back.
It's also worth bearing in mind that the Post Office has agreements with all major UK banks, allowing free day-to-day banking services at all of its branches. So if for example you've a Barclays account, you can use your local post office branch to deposit old £10 notes into that account, even after the withdrawal date.
Those in living in Scotland will also be able to exchange or deposit their old £10 notes after 1 March, if they visit a Royal Bank of Scotland, Clydesdale or Bank of Scotland branch.
Are older £10 notes worth holding onto?
That's difficult to answer, though if you did want to hold onto any paper £10 notes, cleaner and crisper ones are likely to be more valuable. When we checked eBay, uncirculated paper £10 notes in 'mint condition' were listed for sale between £11 to £18.50, though it's best to take these asking prices with a pinch of salt. There really are no guarantees, other than the Bank of England will always be willing to buy them back off you for their face value.
On the flipside, if you've a newer £10 note and it has a low serial number it may to be worth keeping hold of. On eBay, recent listings for notes with AA01 serial numbers have regularly fetched a tad more than their printed worth, with sold prices ranging from £12 to £20. This follows a similar trend for the new polymer £5 when it was introduced in September 2016. See how to check if your new fiver's worth £100s .
What about other currency changes?
As mentioned above, the current plastic £5 note was introduced in September 2016 and replaced the paper £5 note featuring Jane Austin, which lost its legal tender status in May the following year.
Similarly, the current '12-sided' £1 coin entered circulation on 28 March 2017 and replaced the old-style round £1 coin entirely in October last year.
A new polymer £20 note is set for 2020, though a date for withdrawing the existing paper £20 has yet to be announced. The Bank of England says it will make a decision on the existing £50 note and whether to print it on polymer ' in due course'.