'This behaviour totally undermines the concept of switching'
MoneySavingExpert deputy editor Guy Anker said: "Such behaviour by big suppliers totally undermines the concept of switching by falsely putting people off with the threat of false charges. Then to actually overcharge tens of thousands of people rubs salt into the wound.
"And as switching is the key weapon to escape rip-off tariffs and save customers big money, suppliers who wrongly threaten these charges – and sometimes even have the nerve to levy them – are betraying hard-working families trying to save what could be a crucial few hundred pounds a year.
"The regulator's rules on switching are extremely clear – if you're in the last 49 days of your fix, you DON'T have to pay an exit fee and can switch to a different provider penalty-free. So it's great to see that as a result of our campaign, Ofgem has now dealt with all three offenders, and we hope they and all other suppliers NEVER repeat this tactic."
Here's what we caught British Gas doing
This is a copy of the T&Cs from one of its tariffs in 2016. The highlighted part is the offending paragraph.
The problem is that it said fees would be charged on switches up to 2 December 2016, yet as that was the tariff end date there should have been no fees for anyone switching in the preceding 49 days.
We also heard reports of these fees actually being charged, which has been confirmed by Ofgem.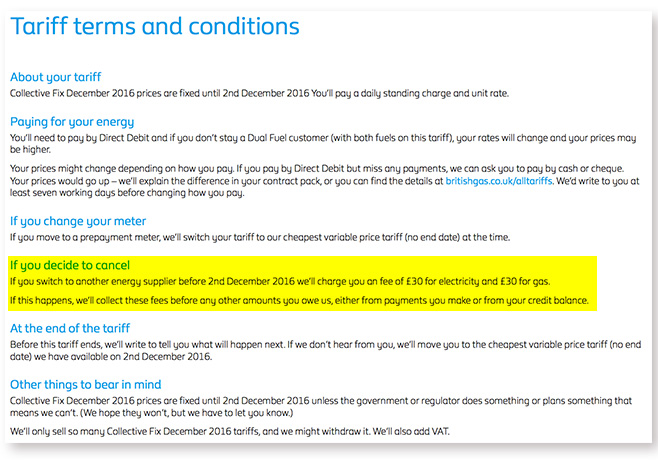 You can leave penalty-free within the last 49 days of your fix
Ofgem's rules state that customers must not be charged exit fees if they leave during or after the "switching window", which is defined as "49 calendar days before a fixed-term contract ends".
You can apply to switch at any point during a fixed-term contract without having to pay exit fees, as long as the switch is actually completed during the switching window.
Ofgem director of conduct and enforcement Anthony Pygram said: "British Gas failed its customers who were coming to the end of their fixed contracts and switched supplier by unfairly penalising them and applying charges in error. Many more customers could have been deterred from getting a better deal due to the incorrect terms and conditions.
"Our enforcement action against British Gas sends a strong message to all suppliers that they must respect their customers' rights during the switching window and always treat customers fairly."
What is British Gas actually paying out?
It has paid back about £850,000 in refunds for overcharging, about £750,000 in additional compensation to affected customers, and a further £1.05 million as a payment into Ofgem's consumer redress fund.
A British Gas spokesperson said: "A system error led to a small proportion of customers being incorrectly charged. We've apologised to the customers affected.
"Those who were charged too much were promptly refunded as soon as we identified the issue and were paid an additional goodwill gesture. Some customers were provided with initial communications containing incorrect terms and conditions – but all other communications they received were correct.
"We note Ofgem has acknowledged that we have already addressed this issue and that we have changed our processes to ensure the error has been corrected."
How energy firms have got it wrong on exit fees
We've been campaigning on this since 2016 – here's a quick recap: