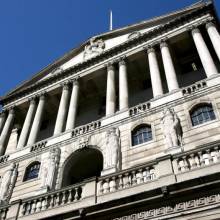 The Bank of England will announce at noon whether its official borrowing rate – the base rate – will rise.
The base rate influences what borrowers pay and savers earn, and so an increase will affect financial products such as mortgages and savings accounts.
The bank's nine-member Monetary Policy Committee – which sets the base rate – will vote on increasing the rate this morning. It decided to keep the rate at 0.5% during its past four meetings in December, February, March and May.
It has been widely predicted that the rate will rise, with one poll in July showing 80% of City analysts believed it would increase from 0.5% to 0.75% – its highest level in nine years.
The last move to raise rates in November from 0.25% to 0.5% was the first such increase for more than ten years, but merely reversed the cut made in the aftermath of the Brexit vote.
We'll update this story as soon as the announcement is made.

Get Our Free Money Tips Email!