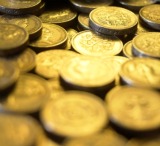 Almost 170 million old £1 coins have yet to be returned to the Royal Mint nearly nine months after they went out of circulation – here's what to do if you find a stash.
Shops stopped accepting the round £1 coins on 15 October last year and could no longer give them out as change.
But 169 million of them still haven't been returned to the Royal Mint – suggesting many may be hiding in piggy banks or down the back of sofas.
Your old £1 coin may even be worth more than £1 – see our blog to find out if you could get a small fortune for yours.

Get Our Free Money Tips Email!
I have an old £1 coin – what should I do?
The Royal Mint recommends that if you have an old £1 coin, you go directly to your bank to exchange it.
Specific arrangements vary from bank to bank, but the Royal Mint says RBS, NatWest, Ulster Bank, HSBC, Barclays, Lloyds, Santander, Nationwide, Clydesdale, Yorkshire Bank, Halifax, Bank of Scotland and The Post Office are still accepting deposits from their own customers.
It's worth noting that coins are NOT like old bank notes, which can be returned to the Bank of England for their face value for an unlimited period of time after they go out of circulation.
What does the Royal Mint say?
A spokesperson for the Royal Mint said: "We do not expect that all round £1 coins in circulation at the time of the transition will be returned to the Mint.
"Based on the returns of other demonetised coins we expect there to be some returns for a number of years to come as people find these."